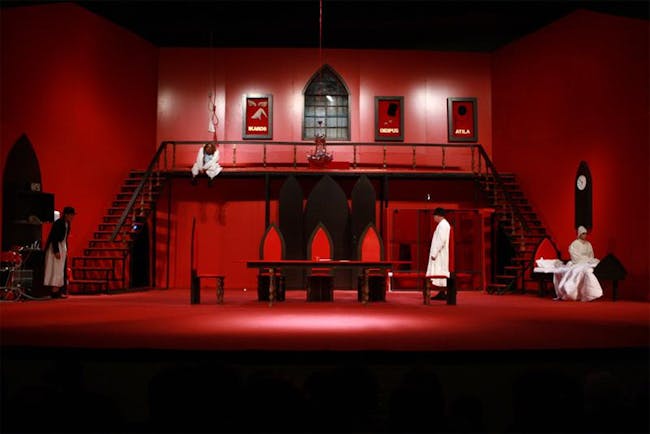 JCTC Voices International Theatre Festival
Antigone by RAAAM Theater Group (Estonia & Iran)
Jersey City Theater Center presents "Antigone" by RAAAM Theater Group as part of the 2020 Voices International Theatre Festival.
RAAAM Theater Group (Estonia & Iran) – "Antigone," adapted by Iranian exile Ghanizadeh, written in Estonian, with Farsi and English subtitles. This censored work was produced with Estonian actors from RAAM Theatre Group. Modern adaptation of Sophocles.
Ghanizadeh's Antigone was problematic. In Sophocles' version, Antigone returns to Thebes, her native city, after her father's death at Colonus. In Thebes, she rebels against the patriarchal law imposed by her uncle Creon, the new Theban king, who forbids the mourning of Polyneices, Antigone's sibling, who is considered a traitor. Attempting to bury her brother's corpse, Antigone is sentenced to death by her uncle, and she hangs herself.
In truth, the Greek princess Antigone, Oedipus's daughter, is the champion in defying authority. She brings not only the collective memory of dead prisoners condemned to the common grave -- and this without a single funeral oration -- but she also revives, in Ghanizadeh's version, people's furor over recent dramatic events.
Some words in Ghanizadeh's adaptation of the play were unacceptable to the censors. Antigone, as she expresses her indignation over her brother's death, affirms that he has been killed on the pavement -- a clear allusion to Neda Agha Soltan's murder during the postelection protests and to the two students, Mohammad Mokhtari and Saneh Jaleh, who were killed during the 25 Bahman demonstrations, just a few days before the opening.
Another situation also created conflicts. Creon has a son who is in love with Antigone. During a confrontation with his father, he tries to strangle him and yells, "I want the power now! I want to become a king right away!" Beyond doubt, the vision of a son trying to kill his father was equally unacceptable to the authorities.
The play was written in Estonian, and both Farsi and English subtitles were planned. Ghanizadeh was working with the remarkably talented Estonian actors who belong to the RAAAM theater group -- Elina Reinold, who played Antigone, won the festival's best actress award. After the opening, censors decided that some "immoral" phrases in the subtitles would be replaced by a stream of dots. I was told that Ghanizadeh finally accepted their wishes but trained his actors to pronounce the prohibited words in Farsi during the performances.