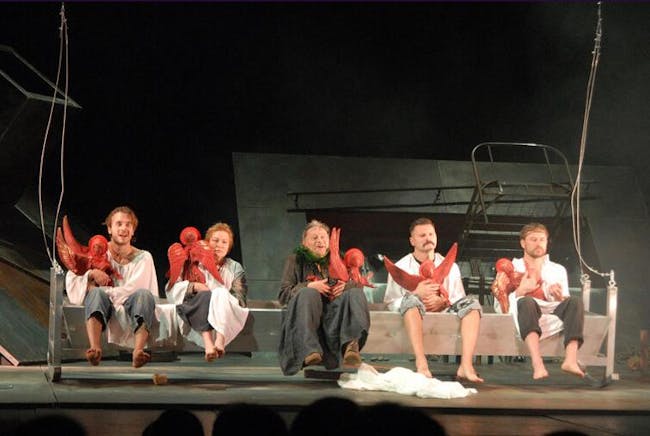 JCTC Voices International Theatre Festival
Chernobyl by Roman Viktyuk Theatre (Russia)
Jersey City Theater Center presents "Chernobyl" by Roman Viktyuk Theatre as part of the 2020 Voices International Theatre Festival.
Roman Viktyuk Theatre (Russia) – "Chernobyl" winner of the 2020 Golden Mask, conceived and directed by Roman Viktyuk.
Ensemble performance. Video with English subtitles.
Roman Viktyuk, one of the most prominent and recognized by the people of Russia and Ukraine directors. He worked in theaters in Lviv, Kalinin, Tallinn, Vilnius, Minsk, Kiev, and Moscow. In the mid-1970s he began to stage performances in Moscow. In the mid-1980s on the stage of the Moscow City Council has put the play by Leonid Zorin Royal Hunt, gained great fame thanks to The Maids by Jean Genet, staged at the Satyricon in 1988. Since 1991 – artistic director and director he established private theater (Roman Viktyuk Theater), which in 1996 became state theater. The director of a number of dramas Central Television (Players, 1978, The History of the Chevalier des Grieux and Manon Lescaut, 1980, Girl, where do you live?, 1982). Professor of the Russian Academy of Theatre Arts (GITIS).
Chernobyl The performance was included in the program "Russian case" of the theatrical award "Golden Mask" this year, which was established for foreign critics and producers. This unexpected performance, out of habitual Viktyuk aesthetics, which stands apart from the director's departure from his theatrical manner in the direction of the parable and the actual "new drama", tells how the curator of the Russian Case program at the Golden Mask festival, Pavel Rudnev, writes about "A hidden, hidden secret resource of humanity, living in people and showing up in an extreme situation. <...> A paradoxical, incomprehensible, irrational will to survive, the hymn of which is sung today by director Roman Viktyuk. " A family who lives in isolation in a closed zone - the "exclusion zone" - after an ecological catastrophe, remains either to die, or to pray, or to love. And if people love each other, then no cataclysms that civilization thinks out are terrible. All abandoned, but clean and bright people remain faithful to their land, realizing that only it can save them. As Roman Grigorievich asserts, we need to know the world around us, trusting nature, and then at the beginning and at the end of time we will discover cruel and tender, wise and stupid, cynical and quivering, ugly ... and still such a wonderful world. Actor's work in the play "At the beginning and end of time" without exaggeration are powerful and expressive. The actors play piercingly, at the break, causing those fits of laughter to be sharply submitted by the worldly truth, then the inner stupor by the confession of their monologues, light and tragic at the same time.
Feast during the Plague by Pushkin runs for 23 minutes. If they are put on in one evening – it will be just about 1 hour of two performances of Russian and Russian-Israeli projects. With a subsequent discussion of how classic and modern are combined today.