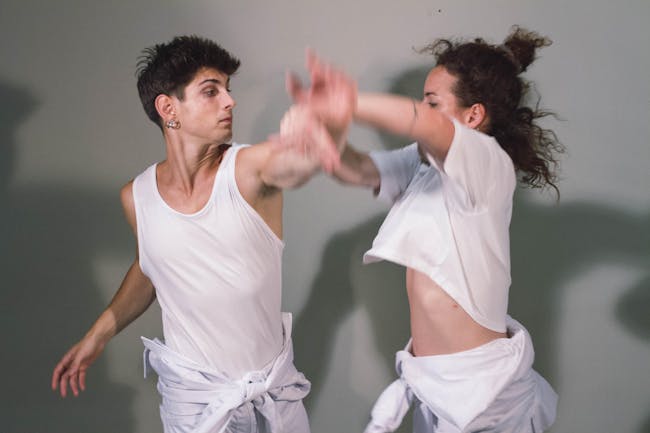 JCTC Voices International Theatre Festival
Des-espera by Les Impuxibles (Spain, Catalonia)
Jersey City Theater Center presents "Des-espera" by Les Impuxibles as part of the 2020 Voices International Theatre Festival.
Post-screening talk with Ariadna Peya
What can be expected from male-female couples where he is younger and she is significantly older? Des-espera talks about living in contradiction, and the acceptance of this contradiction as a way to grow.
Des-espera talks about what is expected of us, or what is not expected.
Des-espera speaks of turning on and off, of shaking and calming, of hurting and healing, of waiting and despairing.
Des-espera means Despair. In catalan "espera" means wait/expect and "des" is a prefix that before the verb changes the action.
CAST
A creation by Ariadna Peya, Marc Soler and Clara Peya
Production: Les Impuxibles
Performers: Ariadna Peya, Clara Peya and Marc Soler
Original music: Clara Peya
Voice-over: Dana Carbonell
Costumes: Iker Nafta
Artistic advisors: Jorge Velasco and Silvia Capell
Technical Manager: Jordi Berch
Sound: Carles Bernal
Accessibility advice: Èlia Farrero
Photography: Willy Ormaetxea and Xavier Buxeda
Executive Production: Gracia Camps
Distribution: Mireia Gràcia Bell-lloch
Social networks: Xavi Buxeda.
Translation: Sílvia Ruiz
Video: Lleida TV
Acknowledgements: La Plana Foundation, Xavier Buxeda, Lola
López, Mariona Castillo, Renata Ramos, Festival Dansàneu.

This event was made possible with the support from Institut Ramon Llull