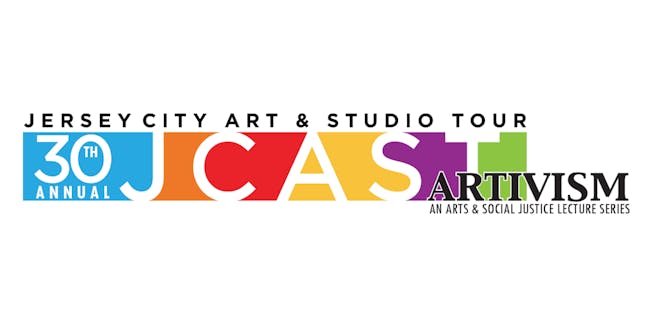 Presented by Jersey City Theater Center and City of Jersey City
JCTC Commemorates 30 Years of JCAST with Arts and Social Justice Series
Jersey City Theater Center Commemorates 30 Years of JCAST with Arts and Social Justice Series.
JCAST will be celebrating its 30th anniversary October 5th, 2020 with online programming of exhibitions, artist talks, performances and demonstrations making it possible to experience the best of Jersey City's arts scene while sheltering in place.
Jersey City Theater Center is proud to partner with Jersey City and JCAST by presenting Artivism: An Arts and Social Justice Lecture Series. During these times we believe it is important for artists and art organizations to address and focus on social justice expression through the arts and how we can help our community seek justice and heal.
JCTC has invited community leaders, educators, and artists to take part in a conversation about activism and social justice in the context of film, visual arts, and theatre presented during the series.
The schedule is as follows:
Theatre and Art as a Voice of People (15 min)
Olga Levina,JCTC's Artistic Director
Arts as Global Connector (30 min)
South African Theatre Director, Reviewer Jaci de Villiers (moderator), International Theatre Companies and Artists
Panel 1
Community Engagement & Art and Social Activism ( 30 min)
AlVIN D. PETTIT ( alvinpettit.com), Visual Artist & Program Director, Office of Cultural Affairs Mary McLeod Bethune Life Center, Christine Goodman, Director of the Office of Cultural Affairs
Lorenzo Pickett (Slideshow) - (5min)
Luis Alves Collage (Slideshow) - (5 min)
Video Greenville - (5 min.-10min)
Community / Arts as a Catalyst for Change (30 min)
Ibn sharif Shakoor, Lorenzo Pickett (Greenville Residents and Artists)
Amy Wilson, Rabbi Bronwen Mullin, Pamela Johnson
Panel 2
Arts and Education (30 min)
Ericka Adams (moderator); Invited: Superintendent, Dr. Walker
Brigid D'Souza (NJ Together, Civic Parent )
Q&A with Guest Speakers (30min)
Coordination by Olga Levine & Duda Penteado
This event will be held online on Zoom. Those who RSVP here will receive a Zoom link from Eventbrite on the day of the event.