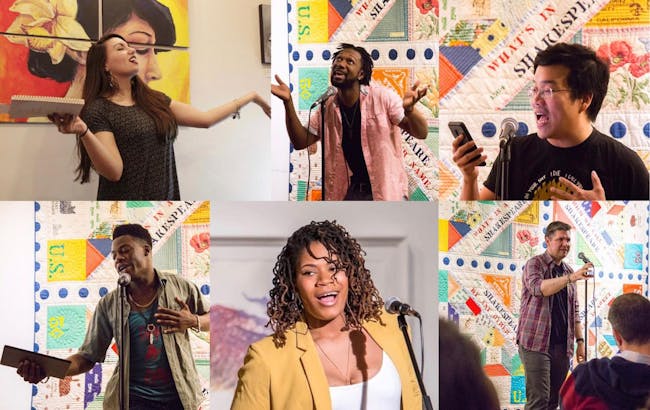 Presented by Jersey City Theater Center
Jersey City Slam Grand Open Mic
Merseles Studios
Jersey City Slam presents the Grand Opening Mic with Jersey City Theater Center!
Jersey City Slam is a nationally recognized poetry slam and open mic now in its 10th season. Come join as we celebrate our new partnership with Jersey City Theater Center. The Grand Opening Mic is an open mic celebrating the new partnership between Jersey City Slam and Jersey City Theater Center. We want to have our first joint event open to any poet who wants to hit the stage. Poetry can be of any style and newcomers are welcome. We suggest coming early to sign up because we expect the list to fill up fast.
Our featured performer is ChyKonic Speaks. ChyKonic Speaks is a Jersey born poet and recent graduate student at Montclair State University. Over the last few years, she has represented the Montclair State poetry team and Jersey City Slam team, competing at the College Union Poetry Slam Invitational twice and the National Poetry Slam twice. Finding much success and love in the slam community, she continues by hosting DAMN Slam in West Orange, NJ; where she is the co-founder and co-curator. She coaches alongside SNC to further the writing and performing knowledge of the Montclair State Slam team. Excited to be submerged in the art community, she has had the opportunity to share her works at venues in the tristate area and truly experience her craft at new heights. Her goal is to always keep creating new meaningful content and to make an impactful contribution to the craft.
If you want to learn more about slamming visit our web page: www.jerseycityslam.com