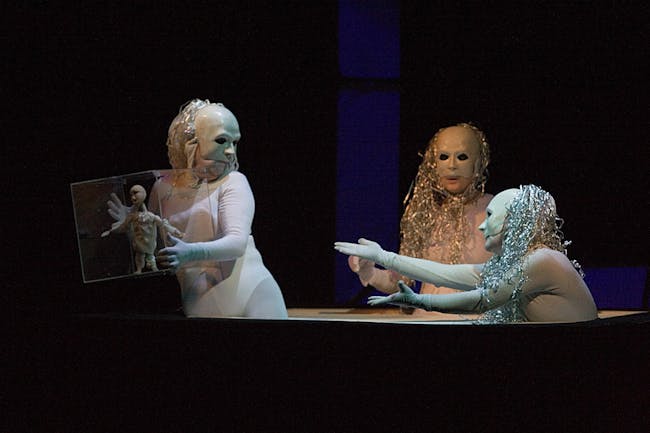 JCTC Voices International Theatre Festival
Poem Without Words by Grogno Regional Puppet Theatre (Belarus)
JCTC presents "Poem Without Words" by Grogno Regional Puppet Theatre as part of the 2020 Voices International Theatre Festival.
Grodno Regional Puppet Theatre (Belarus) – "Poem Without Words" conceived and directed by Oleg Zhiugzhda and Larisa Mkikina-Probodyak, based on the poem "Dream on a Hill by renowned Belarussian poet and playwright Yanka Kupala. Unique puppet theatre play.
A little person in a class cube. He isn't born yet, but wishes are already fighting over the cube. They break it giving freedom to the person inside. He/she comes alive. Wishes start fighting over the person's soul: who the soul will belong God or Devil?
Grodno regional puppet theatre was opened in November 1st, 1980. Thoughtful and serious approach to aesthetical, ethical and philosophical quality of the performances for children, choice of repertoire, diversity and depth of staging interpretation, using the whole palette of modern theatre means of expression made it possible to create a number of outstanding performances for family viewing.
The theatre artistic leaders – director general Oleg Zhiugzhda and art director Larisa Mikina-Probodyak – are well-known not only in Belarus, but also abroad. During the last 10-year period the theatre was on tours and at festivals in Poland (Torun, Lomza, Warsaw, Wroclaw, Krakow, Gdansk, Bialystok, Lublin), in Russia (Ryazan, Moscow, St.Petersburg, Kaliningrad) , Ukraine (Uzhhorod), Croatia (Zagreb), France (Limoges), Lithuania (Vilnius, Kaunas, Panevezys, Alitus), Czech Republic (Prague, Ostrava), Hungary (Pecs), Romania (Alba Iulia), Serbia (Subotsitca), Bulgary (Plovdiv), Holland (Limburg).
In 2003 and in 2013 the troupe of the theatre was marked with the special award of the President of Belarus "For the International Cultural Contacts Development".