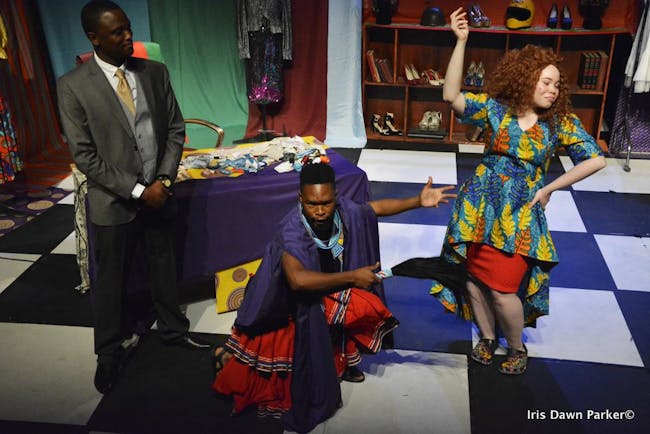 JCTC Voices International Theatre Festival
Shoes & Coups by Palesa Mazamisa (South Africa)
Jersey City Theater Center presents "Shoes & Coups" by Palesa Mazamisa as part of the 2020 Voices International Theatre Festival.
"Shoes and Coups" by Palesa Mazamisa ((South Africa)
Satirical drama. In English. Virtual Reading.
In the tradition of satire, Shoes & Coups – A Paradox of the Absurd, uses humour, irony, exaggeration and ridicule to illustrate the politics of idealism and power as demonstrated through the relations between government, citizens, and big business.
The current global political climate has seen the voices of citizens increasingly usurped by the demands and excesses of narrow political and conglomerate business interests, for whom, it appears, undermining basic democratic, constitutional and human rights principles is par for the course. Tragically, these actions generate adverse social, financial and economic repercussions that affect especially the poor, working, and middle classes as well as weakening the ethical, moral and philosophical principles that seek to uphold the integrity of a nation. Citizens suffer when gross, and shameless, misconduct by political and business interests becomes a fait accompli. When those who are entrusted to lead a nation disregard and mock the privilege of leadership, they risk breaking the social contract with the people and to the constitution they have sworn to uphold. Such misconduct destroys the ability of a nation to reconstruct itself as it sinks deeper into a quagmire of corruption, despondency and, often times, sheer absurdity.
Inasmuch as Shoes & Coups is entertainment and parody, it is also a plea to reflect on this erosion of democratic, constitutional and human rights principles, and hopes that audiences will reflect on the processes employed by political and business interests to subvert dignity and common decency in their pursuit of inexhaustible financial gain and satisfaction of a relentless lust for power.
Humour serves not as a substitute for critical engagement but rather as an alternative lens through which to view the issues that matter and are important to society. Ultimately, it seeks to add to the debate that ensues when citizens ask, often in exasperation: how did we get here?
Cast:
THE GREAT SUCCESSOR (Leader of the Ultimate State of Lascivia)- Michelle Mosalakae
NIMROD (Successor's Advisor & Servant)- Zizi Peteni
TRACINDA PURCHASE (Deputy CEO of The Corporation)- Sihle Ndaba
IMBONGI (Voice of the Nation)-Sipho Zakwe