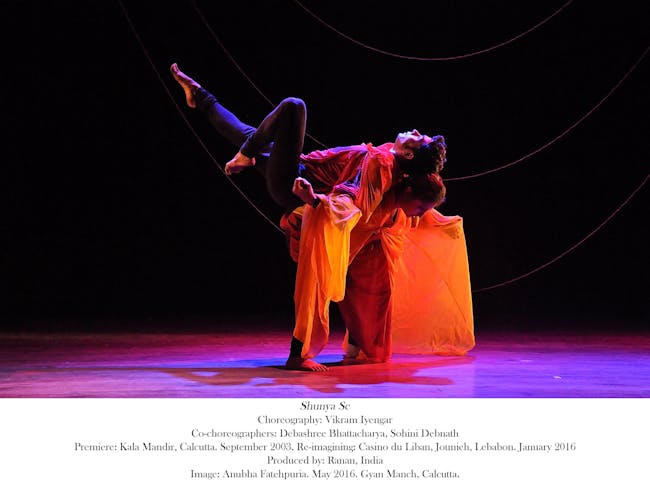 JCTC Voices International Theatre Festival
Shunya Se by Ranan (India)
Jersey City Theater Center presents "Shunya Se" by Ranan as part of the 2020 Voices International Theatre Festival.
Shunya Se is produced by Ranan. Ranan is a kathak-based performance company. The five elements that make up the universe, the five elements that resonate within the human body. From the most abstract and intangible to the most concrete and tangible, all existing together, distinct, yet closely connected. Shunya Se focuses on the elements of space, air, fire, water, and earth, and tries to discover and extend a reflection of this specificity, multiplicity and abstraction with and within the kathak dance form and the kathak informed body.
Kathak is founded on specific principles of movement and a particular conception of the performing body defined by a recognisable physical grammar. Shunya Se journeys through this grammar, attempting to simultaneously maintain, extend and challenge the assumptions it is based on.
And an all-pervading pulse, a secret, sometimes silent rhythm binds all this together – the elements of kathak and the elemental universe – in a growing, morphing, evolving conversation created and spoken through this dancing body.
Ranan is a kathak-based performance company with the express desire to demystify classical dance and make it accessible and enjoyable for a range of audiences. Our work is committed to sharing the magic of the arts, and spans three areas: practice, production, promotion. We work with kathak dancers, actors, designers and more, creating connections between different performance languages keeping kathak at the centre of our experiments.
We believe that encounters with the arts enrich a society immeasurably, and should be an indispensable part of life. We aim to explore and forge imaginative, practical and accessible ways of bringing art, artists and audiences closer together, and build bridges between people, experiences and ideas.