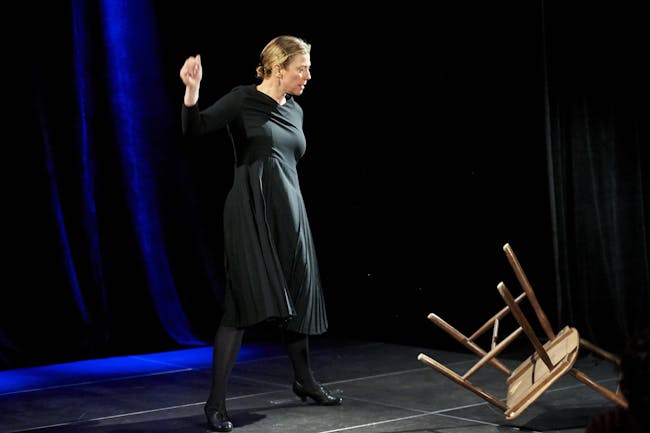 JCTC Voices International Theatre Festival
The Tin Ring by Zdenka Fantlova (England)
The Tin Ring by Zdenka Fantlova Adapted from the book by Mike Alfreds & Jane Arnfield Performed by Jane Arnfield
Adapted for the stage by Mike Alfreds & Jane Arnfield, directed by Mike Alfreds The Tin Ring is a profoundly uplifting story of great love, brought to life by Jane Arnfield's extraordinary solo performance.
The story of Zdenka Fantlová, a Czechoslovakian Holocaust survivor. When World War II broke out, Zdenka was 17 years old. She was given a ring by Arno, her first love, and she kept it with her as a symbol of truth and hope from Terezin to Bergen-Belsen.
Zdenka Fantlová is one of a handful of Holocaust survivors still alive today. This is her story, born in Czechoslovakia Zdenka was 17 when the war began and the ring of the title was given to her by Arno her first love. Zdenka kept it with her as a symbol of truth and hope from Terezin to Bergen-Belsen.
Biography
Arnfield's research projects are practice-led exploring how historical biographical information and narratives can be transferred into performative action engaging the spectator by blending memories; their own and others reframing the past in the present. Arnfield has worked extensively in the field of (Auto) Biographical Theatre. Arnfield's research seeks to investigate memory discourses and the rendering of memory, which refuses complete immersion into a supposedly past moment. Supporting the action of public commemoration by enabling the participant to remember the past filtered through the present is at the core of the work. Arnfield is committed to developing interdisciplinary research and specialises in the creation of monodramas and choral works based on testimony. Arnfield works with ensembles to combine performance with oral history and biographical research that serves both the arts and social justice in the process, enabling lost or silent voices within archives, community groups, individual testimony to be reheard and re-experienced by all who are willing to listen.