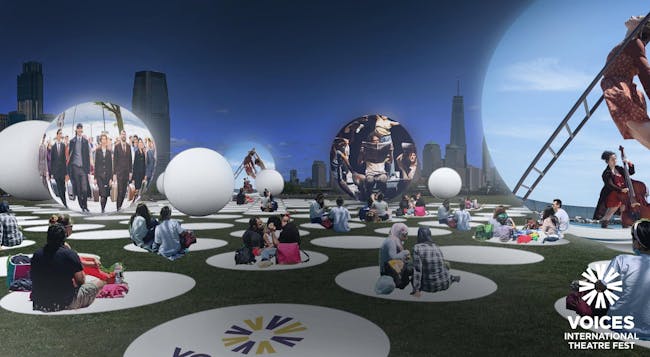 JCTC Voices International Theatre Festival
Voices Opening Ceremony
Liberty State Park
Join us for the Opening Day Ceremony of Voices International Theatre Festival!
Our Opening Ceremony will be presented in person. As part of the festivities, we will be screening two of the most audacious productions in the Festival. First the mixed media wizards Los Escultores del Aire from Spain bring us "Tuberias" about a world without water. Then Rehab Theatre from Israel brings us a hilarious satire about the vanity of Vladimir Putin in "Puh-puh-puh."
Join us in person from Liberty State Park for a big Jersey City welcome... reminding us that we have always been the Golden Gateway of the United States and one of the most diverse cities in America. The audience will sit on the Crescent Lawn on a specially designed distance-safe Gateway Grid created by Gernot Rietherand.
EXPLORE THE WORLD THROUGH THE ARTS... ALL ARE WELCOME!
SCHEDULE:
5:30PM Opening Speeches/ Olga Levina , Beth Cope Festival's Committee / Ariel Ariel Guidry
6:00PM "Black and White" by Mannuel Manuel Vignoulle
6:30PM Ibn Sharif Shakoor, Lorenzo Pickett
6:40PM "Turberias" by Los Escultores del Aire Spain / Catalonia
7:40PM Rescue Poetix
7:50PM Luiz C. Ribeiro /"COVID -19 A Portrait of NYC" by Luiz C. Ribeiro and Duda Penteado
8:00PM Sidney Whelan / June Star
8:15PM "Alone" by Belarus Free Theatre
10:00PM Thank yous /Closing remarks