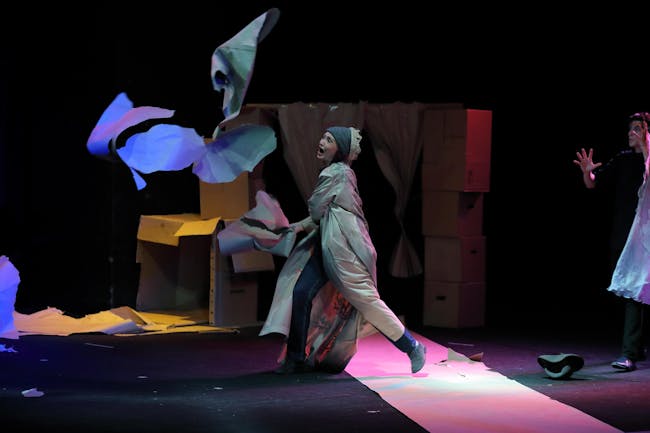 JCTC Voices International Theatre Festival
Vox in Deserto by Didi Tal (Uzbekistan, Israel, USA)
"Vox in Deserto" by Youth Theatre of Uzbekistan (Uzbekistan), Akko International Theatre Festival (Israel), Essence Theatre-Studio (USA)
Youth Theatre of Uzbekistan (Uzbekistan), Akko International Theatre Festival (Israel), Essence Theatre-Studio (USA), a trilateral project – "Vox in Deserto" ("Voice in the Desert"), written by Didi Tal, directed by Nabi Abdurakhmanov, music by Ilya Melamed, video by Evgeniy Fuzulov and Ildar Shayhlislamov.
Multi-media play. In Russian with English subtitles.
Two lonely refugees, two former famous actors, find themselves on the street of an others' country and anothers' city. Their main wealth is their roles of King Lear and Fool, which they are trying to play for spectators on the street in front of the entrance to the local theater. The great tragedy of Shakespeare and the great tragedy of modernity have come together on this small and "absurd" street stage. A crowded city and a voice crying in the desert.
A young Israeli author, a student at Columbia University, Didi Tal was able to touch a huge theme in a small "absurdist" story and touch hearts.
"Vox In Deserto" - in Latin "Voice in the Desert". It's a well-known expression from the Torah - "The voice of one crying out in the desert," which has become a symbol of a desperate call of a man whom no one either can or doesn't want to hear.
The JOINT PROJECT of State Youth Theatre of Uzbekistan (Tashkent, Uzbekistan), Akko International Theatre Festival (Israel), and ESSENCE Theatre-Studio (New York, USA)
With support of Embassy of Israel in Republic of Uzbekistan
Author: Didi Tal (Israel)
Dramatization, directed and scenography: Nabi Abdurakhmanov (USA-Uzbekistan)
Costume Designer: Vassa Vasileva (USA-Uzbekistan)
Composer: Ilya Melamed (Russia)
Video design: Evgeniy Fuzulov (Russia), Ildar Shayhlislamov (Uzbekistan)
Cast: Lee - Vassa Vasileva (USA-Uzbekistan), Foo - Obid Abdurakhmanov (Uzbekistan)